Swiss ePrint Venue:  HOTEL NH, FRIBOURG
All conference-related events for Swiss ePrint 2019 will be held at the Hotel NH, located in the center of Fribourg, Switzerland.
Located in the center of Fribourg, the Hotel NH provides all the modern comforts for hosting Swiss ePrint 2019. The site is only a short walk from the main Fribourg train station.
Accommodation will be available on-site (link).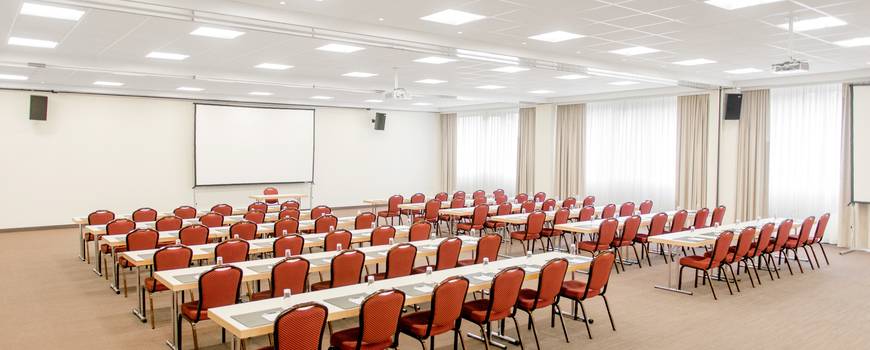 Getting to Fribourg
A major European crossroads, the City of Fribourg is easily accessible by rail, air and car. The closest airport is Geneva International Airport (~ 130 km), followed by Zurich International airport (~ 160 km).
By Air
The closest airport is Geneva International Airport (GVA). There are many airlines flying daily to Geneva from many major cities in Europe.
From GVA you can get frequent intercity trains directly to Fribourg main train station (~ 90 minutes train). 
An an alternative, Zurich International Airport (ZRH) is slightly farther away (~ 120 minute train) but also offers many daily connections throughout Europe, as well as direct and frequent Intercity train service to Fribourg. 
By Rail
Fribourg SBB train station is well connected to Swiss Intercity trains.
You can also check your schedule and buy your train ticket in advance, in order to avoid any possible queues for a train ticket upon arrival.
Full info, with schedule and tickets are here: www.sbb.ch/en/home.html.
Getting to Hotel NH
» Detailed arrival instructions for the venue can be found on the hotel web site [ link ].
Participants are highly encouraged to use public transport to get to the venue.
Address : Grand Places, 14 • 1700 Fribourg; Switzerland
From SBB train station:  Walk 200 meters (map below).
PARKING
» Limited parking will be available at the conference venue.
Note: We cannot reserve parking places in advance at the hotel. Please inquire at the hotel desk for parking availability.